Exein Joins Forces with Empethy: Forging a Tech-Powered Path for Animal Welfare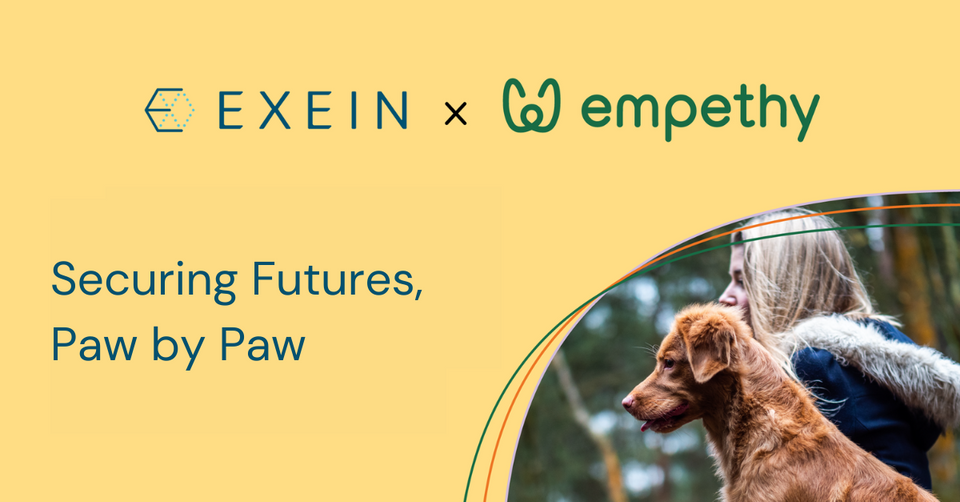 At Exein, our mission is much more than providing top-notch IoT device security. We believe in the transformative power of technology and its capacity to solve real-world challenges, and today, we are thrilled to announce a step that signifies this belief in action. We're officially partnering with Empethy, a stellar organization dedicated to the welfare of animals, becoming a proud sponsor as part of their Pet Corporate Responsibility Program.
When we say that we specialize in IoT security, it's not just about the nuts and bolts of technology. We've always seen technology as a means to better our world, to secure not just devices, but lives, dreams, and now, our four-legged friends too. Our partnership with Empethy is rooted in our shared vision of leveraging technology's power to uplift the animal adoption sector.
Adopting a pet isn't just about bringing an animal home; it's about giving them a second chance at life, a loving family, and a safe haven. The synergy between Exein and Empethy allows us to take an active role in making a real difference in the lives of animals in need. Together, we are on a mission to bolster Empethy's work and to secure a better future for our furry companions.
We have set out three core objectives for this partnership:
Facilitating the adoption of at least 30 animals housed in the Empethy shelter: We'll be actively promoting the animals in our networks, raising awareness about the joy of adoption, and encouraging our community to consider giving a loving home to these beautiful creatures.
Donating 1000 kg of food to the shelter: Understanding that providing quality food is essential for the health and happiness of the shelter animals, we are committed to contributing to their sustenance directly.
Committing to 100 hours of volunteer work at the shelter: To complement our technological partnership, we will also get our hands dirty. Our team will be participating in various activities at the shelter, connecting with these animals and understanding their needs firsthand.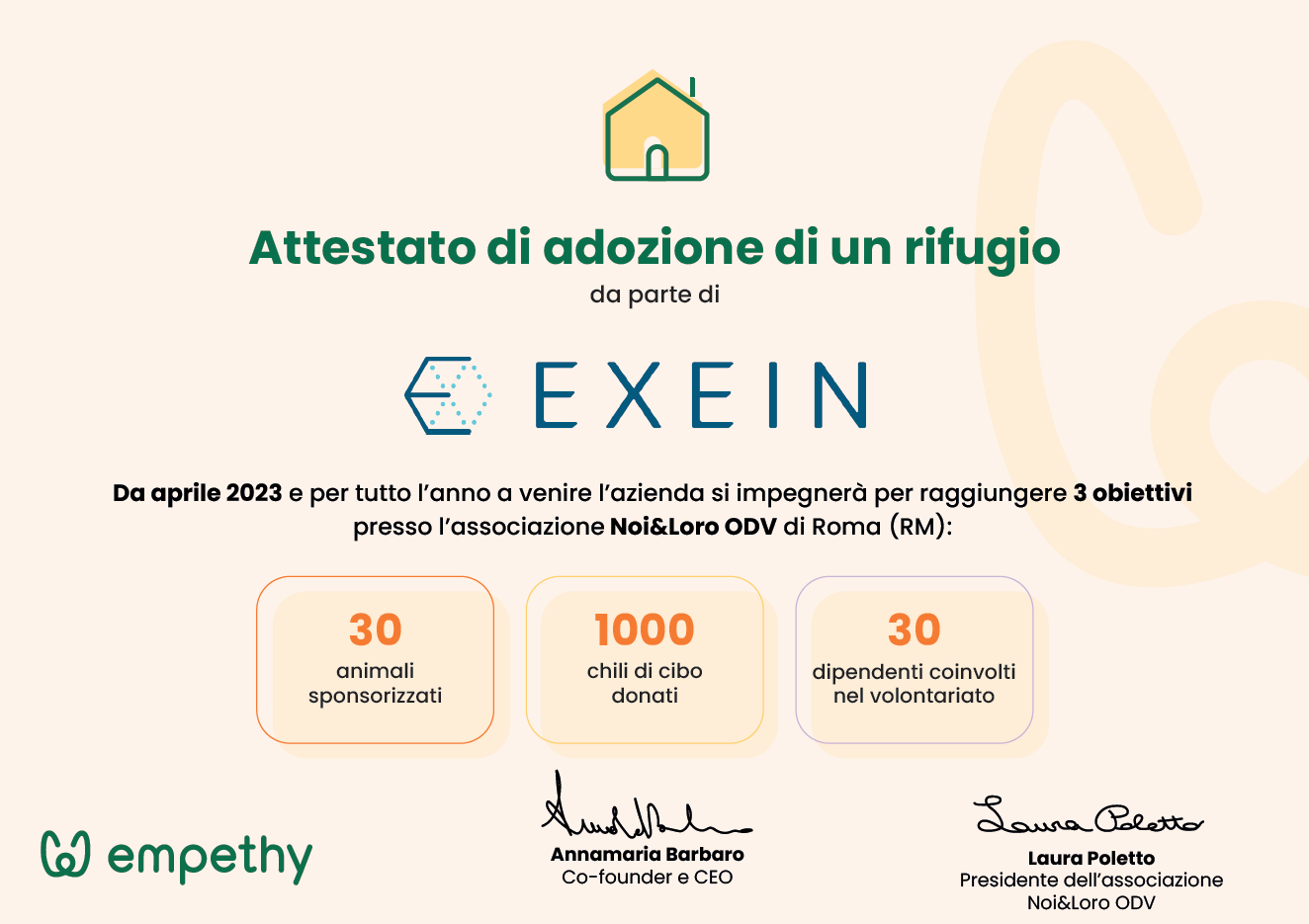 The nexus of this partnership is not just about fulfilling these objectives; it's about instigating a cycle of love, empathy, and respect for our four-legged friends. We're proud to be part of this endeavor, but we're even more excited about the ripple effect this will create within our community and beyond.
At Exein, we're aware of the profound impact that businesses can have on society. Through our partnership with Empethy, we want to showcase how companies can step up, extending their technological prowess beyond traditional boundaries, and into realms where it can touch lives directly - both human and animal.
In the bigger picture, this collaboration symbolizes a paradigm shift – where businesses and non-profits join forces to make a tangible difference. It demonstrates our commitment to Corporate Social Responsibility, highlighting how businesses today can be about more than just profit - they can be a force for good, a catalyst for change, and a beacon of hope for those in need.
We're deeply thankful for the opportunity to collaborate with Empethy. We firmly believe that this synergy between technology and animal welfare will lead to innovative solutions, streamlined processes, and increased awareness around animal adoption. But most importantly, it will pave the way for many wagging tails to find their forever homes.
Our partnership with Empethy is just the beginning. We're looking forward to witnessing the profound impact of our collective actions on our lives. And we invite you, our partners, our customers, our community, to join us on this exciting journey towards a future where technology and empathy work hand in hand to create a world that's safe, secure, and compassionate for all.
If you want to dive deeper into this exciting collaboration, just visit our dedicated section on Empethy website. From our shared goals to the stories of the animals we're helping, it's all there: https://business.empethy.it/Exein/ or just follow our Life at Exein on Instagram.