Exein Shines at Embedded World 2023

The Embedded World 2023 conference in Nuremberg proved to be a phenomenal experience for the Exein team. As proud exhibitors at this prestigious event, we were delighted to connect with a diverse and enthusiastic crowd eager to learn more about our groundbreaking product, Exein Runtime, and the ever-evolving field of embedded security.
Our booth buzzed with excitement, attracting engineers, developers, and key decision-makers from a myriad of industries such as automotive, healthcare, and industrial automation. We relished the opportunity to engage in thought-provoking conversations, exchange ideas, and provide insights into the innovative world of embedded security. It was truly inspiring to witness the heightened level of interest in our product and the industry as a whole.
Throughout the conference, we were afforded the chance to showcase the capabilities of Exein Runtime, demonstrating how it empowers real-time security for embedded devices. Our expert team took pride in elucidating the unique benefits of our cutting-edge technology, highlighting its ability to protect devices from a wide array of threats.
A standout moment for Exein at Embedded World 2023 was our nomination for the esteemed Embedded Award in the Safety and Security category. It was a humbling experience to be recognized alongside other industry-leading companies, and it filled our team with immense pride. This nomination further validated our dedication to revolutionizing embedded security, fostering a safer and more secure future.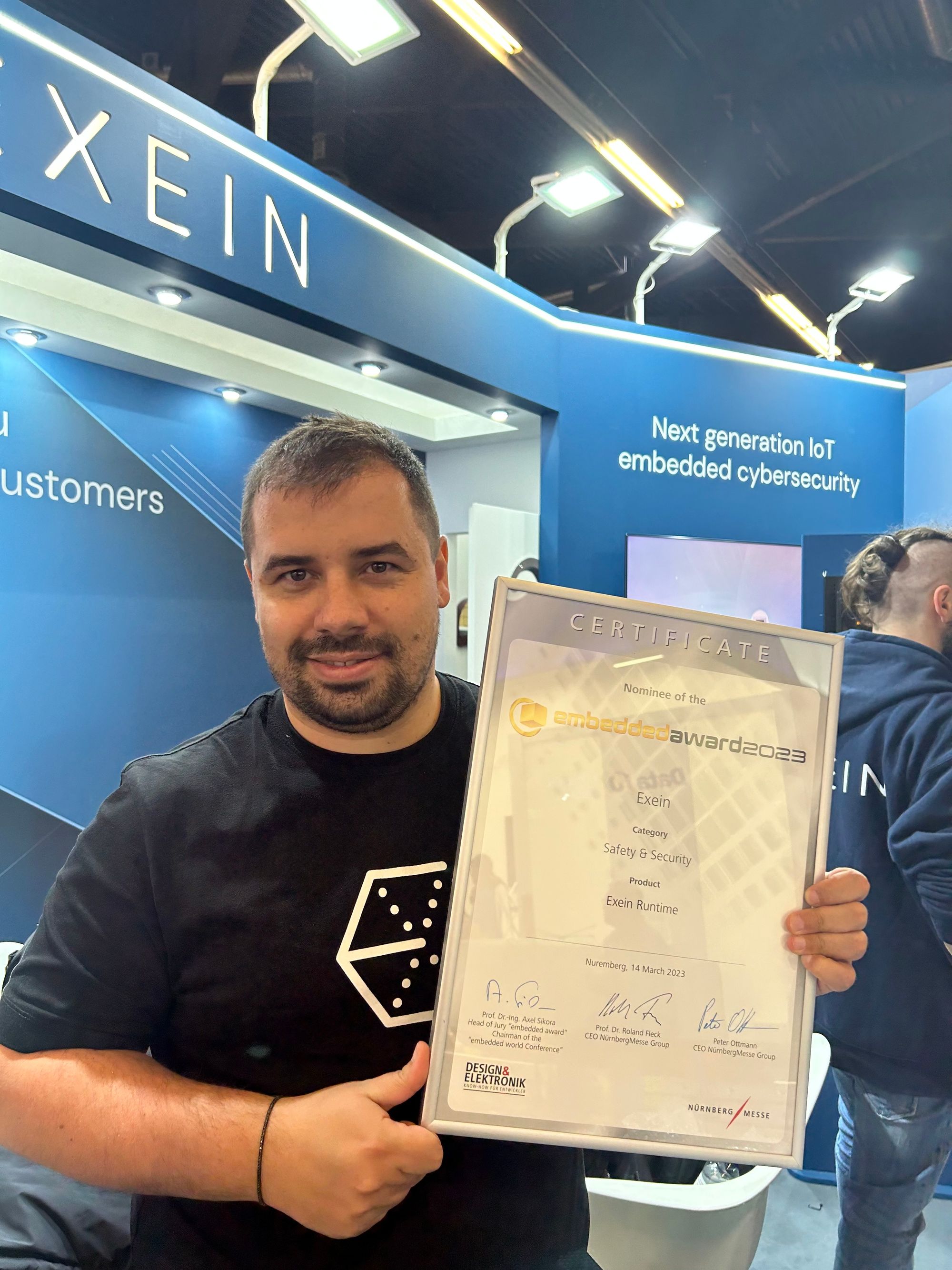 An additional crowning achievement at the conference was securing the prestigious Best in Show award in the Security category, presented by Embedded Computing Design. This esteemed accolade is a glowing testament to the unwavering hard work, dedication, and passion of our exceptional team at Exein. We were absolutely elated to have been handpicked for this recognition, which underscores our relentless commitment to devising state-of-the-art solutions that bolster the safety and security of embedded systems across the board.
The Best in Show award serves as a powerful motivator for us to continue pushing the boundaries of innovation in the realm of embedded security. As a team, we are steadfast in our pursuit of excellence, striving to create pioneering solutions that not only protect but also enhance the performance of embedded systems in diverse industries.
At Exhibitors Forum, our Chief Product Officer, Giovanni Alberto Falcione, captivated the audience with an insightful presentation centered around Next Generation IoT Embedded Cybersecurity. In his eloquent speech, he emphasized the growing significance of security for embedded systems, particularly in the rapidly evolving landscape of the Internet of Things (IoT).
Delving into the myriad of challenges confronting embedded security, he adeptly unveiled some of the trailblazing solutions Exein has ingeniously crafted to tackle these pressing concerns.
The audience's response to the presentation was overwhelmingly positive, sparking a plethora of stimulating discussions surrounding the future trajectory of embedded security. Attendees were deeply engaged, exchanging ideas and sharing perspectives on the opportunities and challenges that lie ahead for IoT security.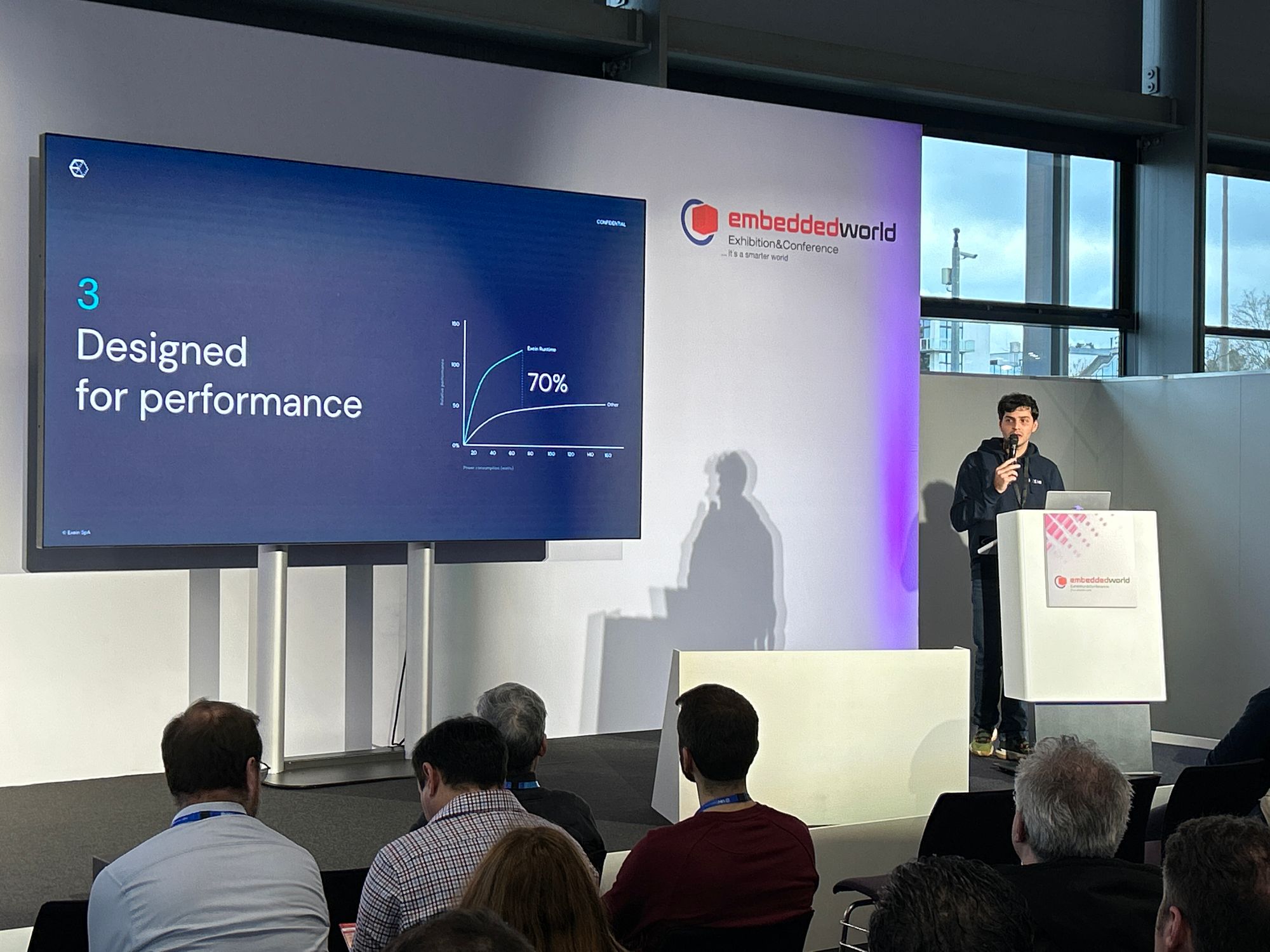 At Exein, we hold the steadfast conviction that embedded security is paramount for the future of IoT. With the relentless surge in the number of connected devices, the potential for security threats is escalating at an unprecedented pace.
In response to this growing challenge, we have meticulously engineered Exein Runtime, a distinctive runtime protection solution that seamlessly integrates with a vast array of embedded devices—even those with constrained resources.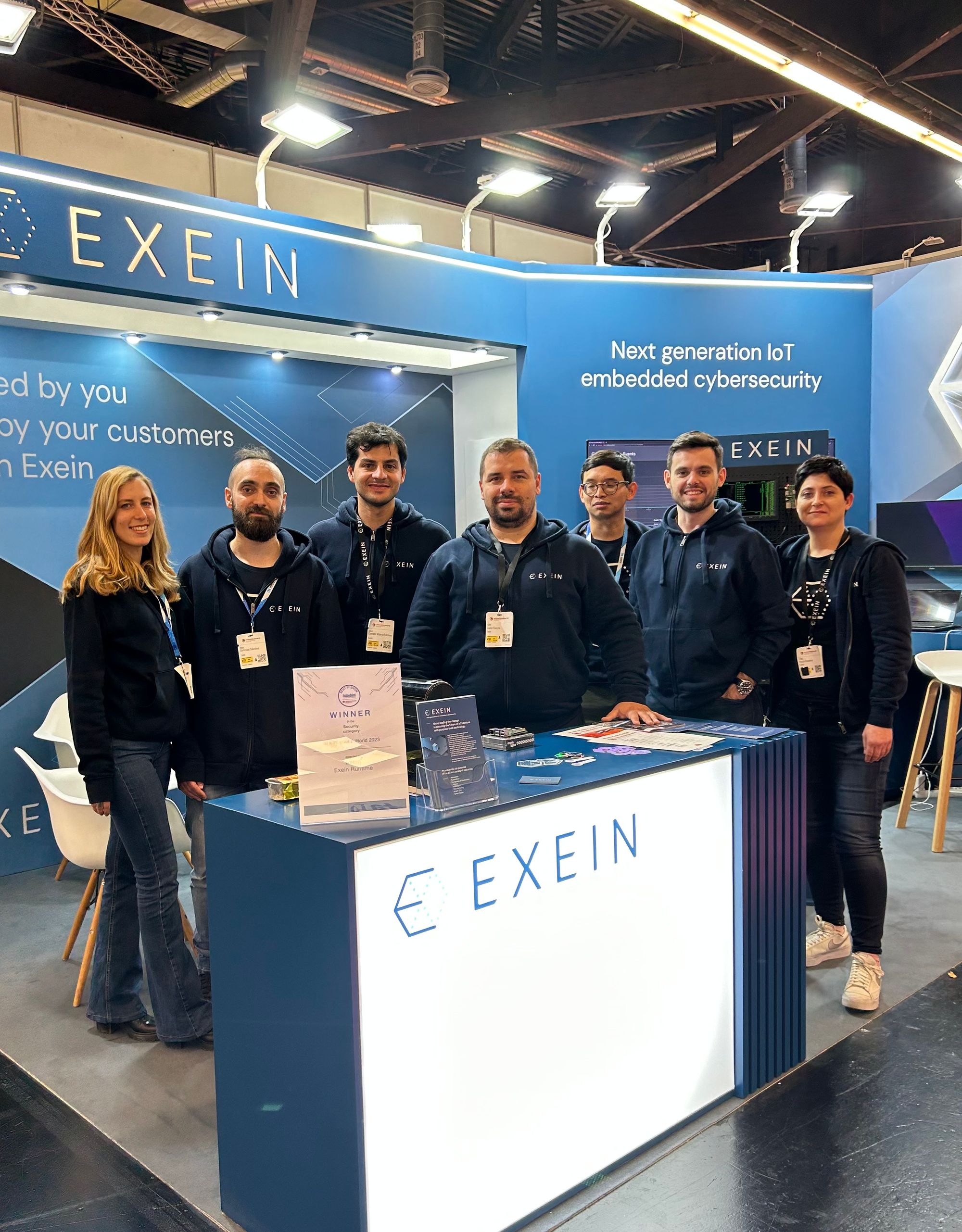 In summary, our presence at the Embedded World 2023 conference in Nuremberg was nothing short of a resounding success for the Exein team.
This incredible experience allowed us to not only showcase the prowess of our innovative product, but also to forge invaluable connections with a diverse community of like-minded individuals who share our unwavering passion for embedded security.
As we reflect on the memorable moments and the lasting impact of our participation in this prestigious event, we are even more committed to propelling the field of embedded security into a safer and more resilient future.
We believe that the future of IoT depends on robust embedded security solutions, and we are excited to be a part of this rapidly evolving field.
We look forward to collaborating with our customers and partners to help secure the future of embedded devices, and we remain committed to providing the best possible technology to our clients.