Introducing Gerardo Gagliardo CFO at Exein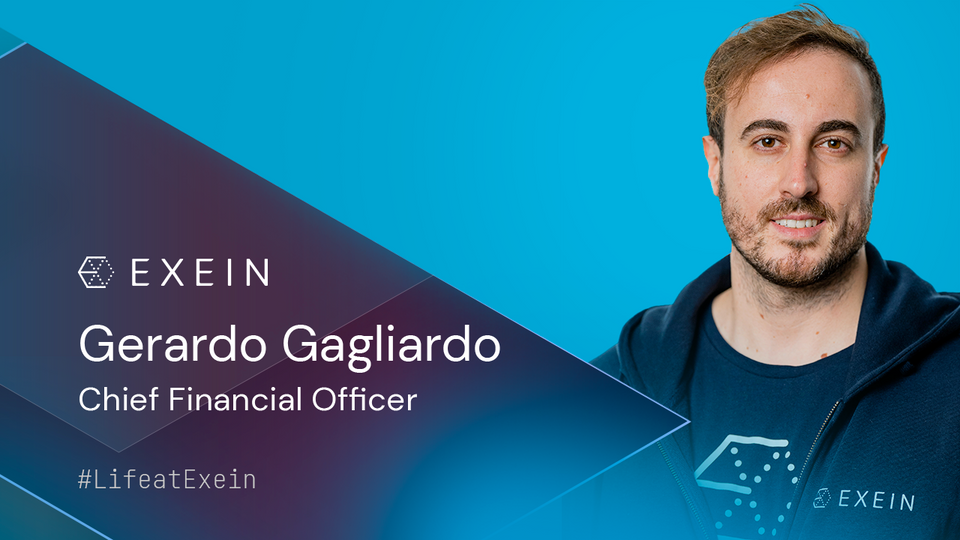 From Corporate Finance to Leading the Way
"Finance and Financial markets have been my lifelong passions. I live and breathe them every day.
One of the things that draws me to finance is the way that it is both highly analytical and highly dynamic. There is always something new to learn or discover, and I find it incredibly exciting to try to make sense of the markets, their movements, the  future macroeconomic trends and Central Banks monetary policies.
Taking a step back, my journey began with studying Corporate Finance and by graduating with a thesis about the IPO (Initial Public Offering) of Ferrari, which led to my first job at the company. The dream of my life was reality.
I enjoyed my time there, but I felt something was missing. There are crucial moments in life when you feel pulled to take a leap of faith. The road ahead was uncertain, and the risks were high. But I was determined to follow my heart and forge a path that was uniquely my own.
And so I did, I left my comfortable position at Ferrari and enrolled in an MBA. My goal was to broaden my knowledge 360 degrees, not just in the finance world but also to deepen my knowledge about the world of startups. Additionally, I felt that my journey was lacking an international experience. That's why I chose China and Shanghai, fascinated by the local culture, to pursue my MBA.
Despite the many other job offers I received during my time in China, nothing compared to the potential that I saw in Exein. I knew I had to apply.
The moment I met Gianni, we clicked right away. I left China and started my new adventure in Exein as a CFO.
At that time, I was only 30 and there were just 5 of us in Exein. Just imagine, a newborn startup that could've grown as well as failed in a few months.
All normal from the outside.
But inside, we were all loaded with emotions.
It hasn't been easy all the way. We had difficult years such as the year of Covid with the challenging transition from seedling to series A fundraising round, which is the most delicate transition, the one in which many startups die. This happens because you are still too small to receive big funding but you are already too big to receive little because you have to grow and expand.
In short, a difficult year where me, Gianni and Alberto, our CPO, passed days and months with many calls every day until we found the right investors.
I'll pause for a moment on this concept: the right investors. We were not just looking for money but smart money, investors who would follow us and assist us in our growth. This made the process longer than expected but it was totally worth it.
Creating a finance department from scratch was also another big challenge.  But with hard work and dedication, we were able to establish procedures, accounting, and policies that set us up for success.
My learning curve grew exponentially during this time, and I am so grateful for the opportunities that Exein has given me to "get my hands dirty" and grow both personally and professionally.
If someone were to ask me today about the future of Exein, my answer would be straightforward. We are determined to reach the next funding round, Round B, and establish Exein as the leader of embedded security worldwide.
My ultimate dream and aspiration as a CFO is to guide Exein towards an IPO. It is the highest achievement I could hope for, and I am confident that with our team's hard work, we can make this dream a reality.
In a nutshell, today Exein has grown into an international company, we have overcome challenges and taken risks, and we will continue to do so as we pave the way for the future.
I don't remember why something went like that, why that one left, what I felt when we were in crisis, how I rejoiced in successes. There are a lot of stories in between: difficulties, successes, bums, exaltations.
But I do remember who was there with me on the road, and who built it with me.
My advice for someone that would like to start my path?
I'd say that we all have two life lists: All the things we actually did, and all the things we wish happened.
Focus on building the first list, starting right here and now."